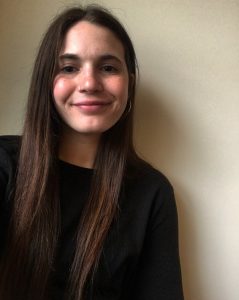 Amanda Dameron grew up in rural Franklin County, but after she moved to Harrisonburg for college she decided to stay in the Valley. Amanda lost her father very early in life, and as a result felt drawn to a major in psychology. She wanted to become a grief counselor and help others work through the issues she had experienced.
However, after she took an internship with a domestic violence shelter in Harrisonburg, she saw that "bigger systemic issues result in individual mental health struggles." She wanted to work on policy from then on in order to help more people. First, she pursued a career in social work. Classes with Professor B. J. Bryson (who is also a member of the Harrisonburg Chapter of Virginia Organizing) made Amanda realize, "Oh wow, I can work on a bigger scale."
Eventually she understood that she wanted to be a community organizer and became an intern with Virginia Organizing in 2019. "It was this excellent combination of working individually with people and building relationships (which was what I loved about social work), but building them in order to work on larger policy and system-level issues that I felt called to do."
Amanda began her organizing work in central Virginia between Louisa County and Waynesboro (excluding Charlottesville/Albemarle County) in 2020. In April 2021, Waynesboro officially petitioned the State Governing Board to become a chapter.
Asked what issue she cares most about, Amanda says, "Every time I start work on an issue with Virginia Organizing I instantly become passionate about it, but I have found working with undocumented people in Harrisonburg very fulfilling. I'm excited about everything."