Leaders of the Lynchburg Chapter of Virginia Organizing met with state Senator Steve Newman in Richmond today. They discussed problems with school suspensions. Delegate Lamont Bag ...
Read More »
Originally from Ohio, LaVerne Jackson moved to Virginia because of her husband's military assignment here. She raised her children and worked as a nurse in pediatric health ...
Read More »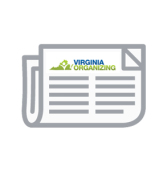 What: Media conference with speakers from Virginia Organizing chapters around the Commonwealth When: Tuesday, April 2 at 11 a.m. Where: The Bell Tower, Capitol Grounds, Richmond, ...
Read More »