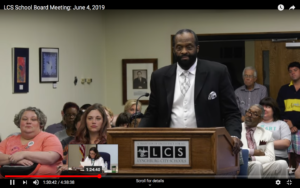 The Lynchburg Chapter won our first local victory in early 2016 when we successfully petitioned the Board of Supervisors in Amherst County to remove discriminatory language from a county ordinance. This ordinance limited returning citizens' ability to obtain jobs and apply for business licenses. During this campaign, our leaders learned how to call elected officials, knock on doors, and make public comments at public meetings.
The Lynchburg Chapter became an official Virginia Organizing Chapter in April 2017 and has been working to dismantle the School-to-Prison Pipeline ever since. During this campaign, we have had meetings with three different Lynchburg Superintendents and several school board members, and we have held several community meetings (including a forum of more than 70 concerned community members) to hear stories from — and reach out to — directly affected families. Dozens of letters to the editor from chapter members have been published in the News & Advance.
We are currently working to improve the Memorandum of Understanding between the Superintendent of Schools and the Lynchburg Police Chief regarding School Resource Officers (SROs). The chapter believes that the role of SROs should be limited so that discipline is dealt with in the schools, and students are not sent to juvenile court. Unfortunately, data clearly shows that more students of color are suspended disproportionately as compared to white students. (There is also a high rate of suspension for students who have disabilities.)
The Lynchburg Chapter won two other school campaigns in the spring of 2020:
First, the school board removed the automatic restriction against people with felony records volunteering in the schools. They agreed to review volunteer applications on a case-by-case basis. Lynchburg is only the 14th school district in the state to decide not to exclude these volunteers automatically.
Members wrote a steady stream of letters to the editor, presented public comments at board meetings, attended school board work sessions and retreats, met with the school superintendent, recruited many allies, and worked with several other groups to get the policy changed.
In addition, the chapter pushed for the school board to add sexual orientation and gender identity to the non-discrimination policies and the board unanimously approved this change. Again, members wrote letters to the editor, sent comments to school board members, and made public comments at school board meetings.
Many of our chapter leaders have been selected to serve on the Equity Task Force of the Lynchburg School Board.
We also held a Medicaid Expansion rally and celebration event, held two DACA rallies, met with legislators in Richmond during each legislative session, and worked on various voter registration and get-out-the-vote activities, including restoration of voting rights for those with a felony conviction.
If you would like to get involved in the Lynchburg Chapter, please contact Organizing Director Nik Belanger.