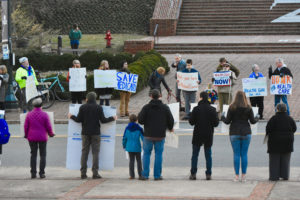 Every week, Virginia Organizing posts concrete steps so you can take timely and important action! Tips to making your action effective: be polite but firm (don't yell or curse or get angry); give your name and where you are from; tell whoever answers the phone what your concern is and why; ask for the official position on your issue; and remember, the person answering the phone is not elected and is just doing his or her job..
"Budget Sunday" in the General Assembly is over, and the House of Delegates included Medicaid expansion in its budget proposal! Thanks to everyone for the hard work to make this happen. So far the Senate has not followed suit, however. Please call your state senator and tell them to add Medicaid expansion to the budget. To find them, visit this website. To learn more about the General Assembly, visit their website.
Call your member of Congress (switchboard: 1-202-224-3121) and tell them to pass a clean Dream Act and comprehensive immigration reform. Thousands of TPS recipients have lost their protected status. DACA recipients only have until March, so Congress needs to act now.


–

The U.S. Senate is poised to open a huge loophole in state interest rate caps and the right of state voters to enact rate caps, effectively giving the green light to payday lenders to charge debt trap interest rates to low-income consumers without having to abide by state laws.


–


This legislation (the "Madden Bill") poses a grave threat to state interest rate caps and could open the floodgates for payday and other predatory lenders nationwide. This bill wipes away the strongest available tools against predatory lending, leaving consumers vulnerable to interest rates in excess of 390 percent.

 

Call your senator today and urge them to oppose the bill!

You can call the switchboard at (202) 224-3121.
Don't forget, you can connect with a local Chapter to work for social, racial, economic, and environmental justice at the local level. Email us at info@virginia-organizing.org so we can help you connect to one of our community organizers.
If you need more information or want to learn more about how to get active in your community, please contact us at info@virginia-organizing.org or 434-984-4655 ext. 227. You can also sign up for email updates and action alerts at http://www.virginia-organizing.org/email-signup.