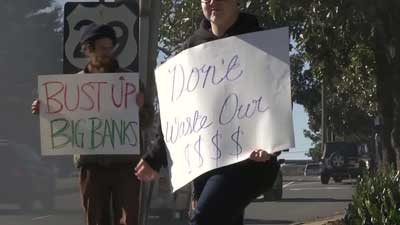 A handful of angry Bank of America customers in Charlottesville let their frustrations be known Saturday by closing their accounts. The divestment protest happened at the Barracks Road branch.
It was part of a nationwide protest claiming the bank forecloses on too many homes, and practices predatory lending. Earlier this week, Bank of America announced it would not charge customers a $5 fee to use debit cards, but that's not stopping protesters.
Cherie Seise, who is protesting Bank of America said, "For me, it's not really about the ATM fees, that's one more thing they did that wasn't good for their customers, but it's about a lot more than that. It's about banks that are really out of touch with their communities, and are not supporting local economies and I just want to be with someone local."
This is the latest in a series of so-called divestment protests put on by Virginia Organizing. The group is urging people to try out community-based banks instead.