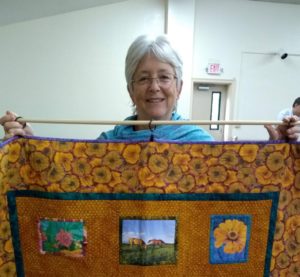 Connie Wright-Zink of the Staunton/Augusta County/Waynesboro Chapter (SAW) grew up in the San Fernando Valley of Los Angeles. She and her husband moved first to Northern Virginia in 1995 and then out to a rural area in the Shenandoah Valley where they are enjoying a semi-retired life of raising chickens and bees and helping out local organizations.
Connie is also a professional quilter. In her picture she's holding the beautiful quilt she made and donated to her chapter for a fundraiser. You can still buy raffle tickets for this quilt! (Contact us for more information.)
Volunteering has always been a way of life for Connie. Her mother participated in the League of Women Voters and the ACLU, and Connie volunteered with a local free clinic in high school, taught children in her Unitarian Church, and got involved in Indivisible when she moved to the Valley. She volunteers because "you get overwhelmed looking at the big picture so you have to think local."
Connie was sick of feeling powerless. She likes Virginia Organizing because there is so much training in the skills necessary to make change happen and she appreciates the presence of directly-affected people in all decision-making. She wants to help people who have been marginalized to communicate their own message, not speak for them.
The SAW Chapter has been working for several years to create high quality communication access for people who are deaf or hard of hearing at Augusta Health, a local hospital. Connie hopes they will be able to convince new management at the hospital to carry out the policies they won last year. She also hopes to work alongside members of the deaf community in a coalition that takes on many issues. "This work takes a lot of brain power and energy to come up with creative ways to solve problems," she says, and that's why she finds it so engaging. Thank you for your creativity and hard work, Connie!