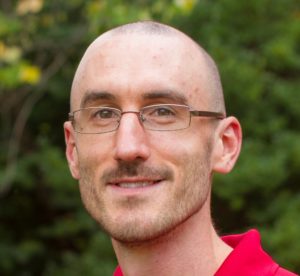 Eric Olson-Getty grew up in Vermont and came to Virginia via North Carolina in 2014. He moved to Harrisonburg when his wife got a new job, but arrived looking for opportunities to get involved in grassroots organizing work. The local Virginia Organizing chapter became his home early on. He also found work at Our Community Place, a community center and day shelter that serves Harrisonburg's unhoused residents.
"Integrity is a bottom-line commitment for me, and that means living out my values and convictions in every sphere of life. For me that means working and fighting for justice and equity both at work and when I'm off the clock. The organizing I do with our local Virginia Organizing chapter complimented and strengthened the work I did at Our Community Place among people who are directly affected by unjust social and economic conditions in our city and county."
Eric took the role of Director of Programs in 2021 after six years with Our Community Place, where he carried both administrative and front-line responsibilities. "I particularly enjoy tasks that help 'keep the engine running' in an organization, that are behind the scenes but which are critical to supporting and empowering people who are out in front."
As the Director of Programs, Eric oversees Virginia Organizing's Joint Plan of Work program, which provides capacity building administrative support to dozens of grassroots organizations across the state and beyond. The JPW program offers support in financial management, fundraising infrastructure, payroll, and insurance coverage, so that organizations can focus 100% on their core mission.
When he isn't at work, Eric enjoys trail running, cycling, and playing music, and may be spotted playing drums at organizing events.