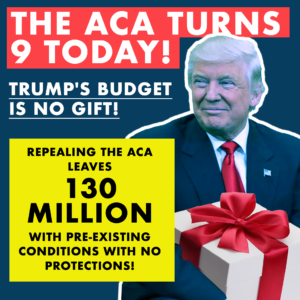 Nine years ago the Affordable Care Act (ACA) was a monumental step forward in protecting access to affordable healthcare for up to 130 million Americans with preexisting conditions. The new budget President Trump wants Congress to approve would destroy that legacy by repealing the ACA and putting 130 million Americans back in jeopardy… That's not right.
Americans fought ACA repeal and won! We're not letting this Trump budget end the ACA and take coverage and pre-existing conditions protections from 52 million Americans! Especially not on the 9th #ACAAnniversary. Trump's budget cuts $777 billion from Medicaid and the ACA, making working families pay for more tax breaks for the rich and corporations like the drug companies that are inflating prices of life-saving medications.
This #ACAAnniversary, the American people aren't standing for Trump's and the GOP's constant efforts to repeal the ACA and slash Medicaid to give big pharma and wealthy health insurance companies massive tax breaks. Millions would lose coverage under Trump's cruel budget proposal, all to pay for the disastrous #GOPTaxScam.