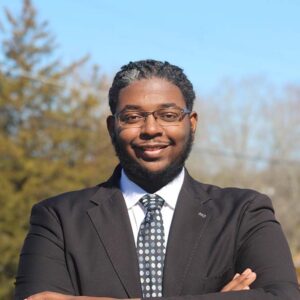 Justin grew up in Southeast Maryland. He attended Albright College in Reading, PA for undergrad and Wesley Theological Seminary in Washington, DC for his Masters in Divinity with a specialization in African American Church Studies.
He came to the Eastern Shore to become the pastor of Gaskins Chapel AME Church in Onancock in May of 2021. Justin wanted the church to do more in the community about the issues people face in the area, and a member connected him with Virginia Organizing. "Churches can become insulated from the community," Justin says, "that's why it's so important for us to get involved with what's going on."
He became the Eastern Shore Organizer in December of 2022.
"I really like the question of 'What do the people want to see changed?' That's the central core of Virginia Organizing. It isn't what leaders want. It's what the people want," he says.
In addition to his two primary careers, Justin also runs a bakery with his mother, "Nick and Neal's Bakery," and he loves bowling so much he tries to fit it in at least once every week.