We held nine celebrations around the Commonwealth after the General Assembly voted to expand Medicaid in their special budget session this spring. We also plan to spread the word about the new law to folks who are directly affected by lack of health care. If you hope to start receiving coverage through Medicaid in January, sign ups will begin in November. See the Commonwealth's web page for more information: CoverVa.org, or call 855-242-8282 for more information.
The Harrisonburg and  Staunton/Augusta/Waynesboro Chapters invited Senator Emmett Hanger to their party to thank him for all the work he did to create this bipartisan legislation.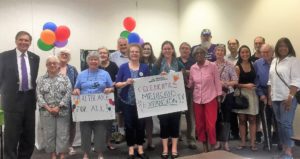 The New River Valley Chapter celebrated by canvassing to spread the good news in neighborhoods where many residents are likely to benefit from the coverage.
The Martinsville Chapter celebrated by studying the long history of the campaign. Speakers addressed the false notions about economics that led to the difficulty of getting Medicaid expanded and the current problem of work requirements, which may prevent many Virginians from getting the care they need.

The Danville Chapter celebrated by providing a well attended information session about signing up, with speakers from local departments of social service and public health.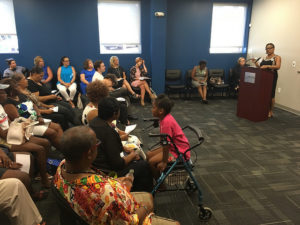 These events received good media attention, too! To read or watch news videos, click the following links:
The News Virginian of Waynesboro