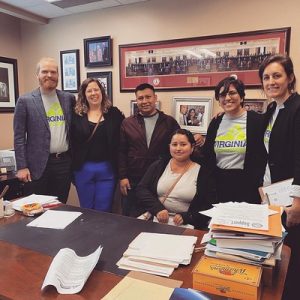 The Richmond Chapter of Virginia Organizing is working on a campaign for equity in local schools. We worked with parents, students, and teachers to create a "Parents/ Caregivers Bill of Rights" that we want local school districts to share with families.
In particular, the Bill of Rights speaks to the rights of families whose children have disabilities, English language learners, and students of color who are disproportionately disciplined for minor infractions in schools.
We are holding virtual and in-person conversations with parents, students, and teachers in the Richmond area to get input on the Bill of Rights and make sure this information is shared widely.
We are also conducting voter registration drives and "get out the vote" efforts virtually and in person, and are connecting with returning citizens and local reentry organizations to support the restoration of civil rights.
Several of our members who live in Henrico County are also supporting the creation of a Community Review Board to hold the Henrico Police Department accountable.
All are welcome! To get involved contact organizer Addie Alexander at addie@virginia-organizing.org.