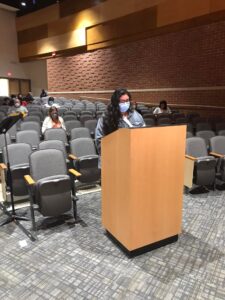 On Monday, May 16, members of the Richmond Chapter gave comments at the Richmond Public Schools board meeting about the Student, Parent, Caregiver Bill of Rights.
Jessica Nocera of the Richmond Times Dispatch writes, "Virginia Organizing, a statewide grassroots organization, began crafting the Bill of Rights after holding listening sessions in which students and parents — a majority being Black and Latino families — from Richmond and the surrounding counties shared their personal stories and concerns.
"The Richmond School Board briefly discussed the 'Student, Parent, [and] Caregiver Bill of Rights,' during a work session Monday night. The board is slated to vote on the document at its June 6 meeting."
The article also highlights the comment of Cynthia Reyes, a parent of children in the Richmond Public Schools, who has been a leader in the campaign for the bill of rights.
"In 2014, when Cynthia Reyes enrolled her daughter in what was then Greene Elementary School — now Cardinal Elementary — a school employee assumed she didn't know English.
""'I remember exactly the words. The administrator saw me and said, 'Sorry, I didn't know you knew English. You don't look like you know English,'" Reyes said in an interview Monday. Another school employee then said to Reyes that her English was "very good" and asked if she could stay to help them translate for other parents in enrollment.
"In the fall of 2020, according to state data, 81.3% of Cardinal students were Hispanic.
""I got so mad. First of all, I'm American, that's how I learned English.""
The chapter will continue to urge the school board to adopt the bill of rights.