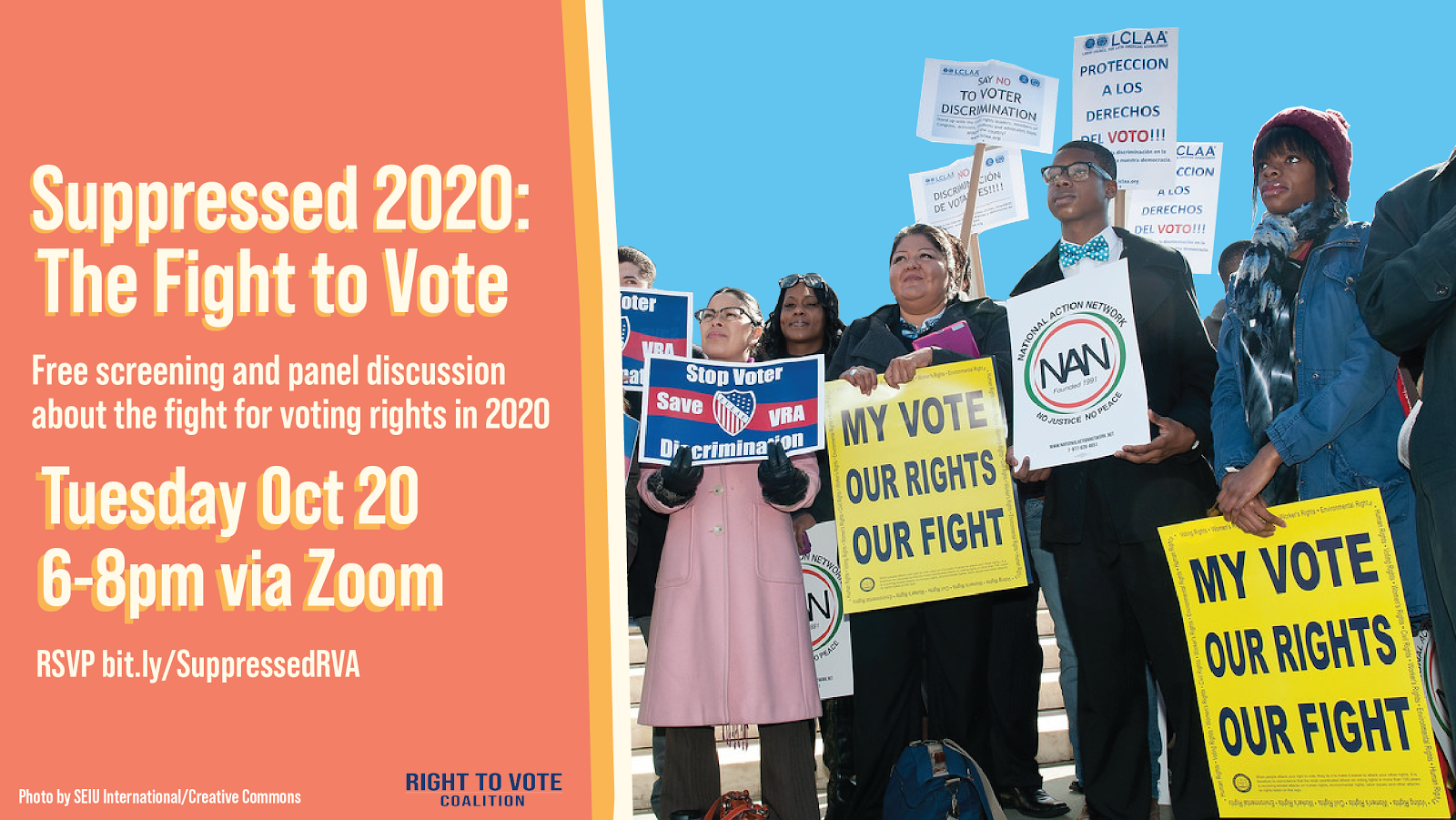 Have you ever wondered where felony disenfranchisement and other voter suppression tactics derived from or who is most affected? On Monday, Oct. 19, the Right to Vote Coalition in partnership with the Richmond Public Library will launch an online interactive exhibit Block The Vote: The Deliberate Suppression of the Black Vote that dives into Virginia's history of voter suppression. Learn about the systemic disenfranchisement of the Black vote from Reconstruction to today. Explore modules on voter suppression tools, a timeline of voter disenfranchisement and hear the voices of the disenfranchised, plus more. To explore the virtual exhibit visit: rvalibrary.org/block-the-vote.
Then continue your journey by joining us at 6 p.m. on Tuesday, Oct. 20, 2020, for a virtual screening of "Suppressed 2020: The Fight to Vote." "Suppressed" documents how voter suppression tactics were used in the 2018 midterm election in Georgia to successfully prevent hundreds of thousands of voters from casting their ballot. The film uncovers the insidious voter suppression tactics that politicians across the country use to stay in power – poll closures, voter purges, understaffed poll locations, and more to block the votes of African American and poor communities. The screening will be followed by a panel discussion about Voting in Virginia – from the positive impact of recent legislation to our confusing election season (itself a suppression tactic) to the continued fight to end felony disenfranchisement. RSVP for the "Suppressed" screening at https://rvalibrary.libcal.com/calendar/main/suppressed
A free and accessible voting system is as important today as ever before. Today one in five Virginians cannot vote because of felony disenfranchisement. That's nearly 300,000 Virginians who will not have a voice in who governs them but are expected to pay taxes. Visit Block the Vote: The Deliberate Suppression of the Black Vote and join us for the screening of "Suppressed" to see how you can take action to ensure every Virginia citizen over the age of 18 has the right to vote.