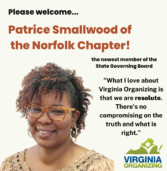 We are so proud to announce that Patrice Smallwood of Norfolk has joined the State Governing Board! Patrice's first experience with Virginia Organizing was in 2019 when she took p ...
Read More »
Photo credit: Billy Schuerman/The Virginian-Pilot/TNS Barbara Jefferson Harris, a leader in the Norfolk Chapter and Virginia Organizing's State Governing Board treasurer, courageo ...
Read More »
We want to hear from residents of Norfolk about access issues for people with disabilities. This will be a Zoom meeting. For more information, contact Meghan. ...
Read More »