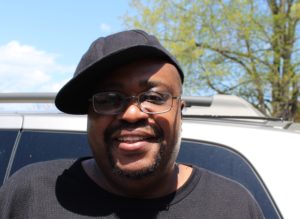 Terry White, "Bean" to his friends, first heard about Virginia Organizing when he saw a flyer in the grocery store. The flyer explained that people who had had their civil rights taken away could apply to the governor to have them restored. He contacted the organizer and started the application process right away.
Soon Bean had joined the South Hampton Roads Chapter. He got his voting rights back, registered, and voted. He started attending every event Virginia Organizing offered in the area. If there was a rally, Bean would be there.
At his first rally outside Senator Mark Warner's office, Bean was surprised to find himself part of a group that was invited in to speak with a staff person. Bean wasn't nervous. "I enjoyed myself!" he says, enthusiastically.
Now he helps other returning citizens get their rights back. He works to disrupt the school-to-prison pipeline, dismantle racism, and fight climate change. He also participates in Medicaid expansion rallies.
Bean knows what it's like to live without health care coverage, and he is receiving treatment for cancer. "Thank God I survived that one," he says. However, the bills have started arriving. First, there was a bill for $28,000. Then he received one for another $22,000. "I started laughing."
After a year in the chapter, Bean continues to go to every meeting and every rally. "Count me in," he says. "I don't mind supporting a positive cause."
Thank you for working to create a more just Virginia, Bean!