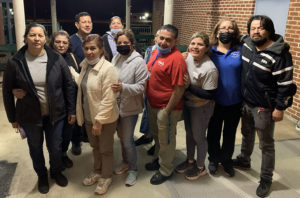 Virginia Organizing and the Custodial Workers of the Stafford Schools achieved a victory on November 8 by getting the Stafford County School Board to include their list of demands in the contract they made with a new company that will provide custodial services.
Virginia Organizing and workers delivered a list of demands to the School Board during its public meeting in September. They wanted an increase in the minimum wage for custodians to $15 per hour–an increase of $4 (36%) over the minimum they currently earn. They also demanded that the workers have paid time off, including holidays and other leave, and health, dental, and vision benefits. On November 8, the Board agreed to include these requirements in their contract.
On Tuesday November 8th, with 4 votes in favor, 2 against, and 1 abstention, the Board awarded the custodial services contract to the new company: Associated Building Maintenance (ABM).
Aquia District Representative Maya Guy introduced a motion for the county to contract with custodians directly instead of awarding the service contract to a new company to ensure school health and equity for the workers. Dr. Elizabeth Warner of the Griffis-Widewater District and Dr. Sarah Chase of the Falmouth District voted for this measure, but the other four School Board members voted against it.
The new company that will provide the services in the schools will start operations on December 21, 2022, and the contract will be valid for 18 months.