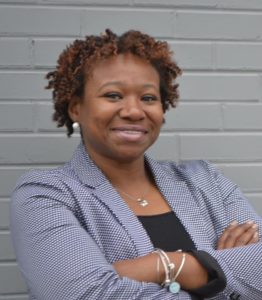 I am so glad to have this opportunity to thank you for the support you have given to Virginia Organizing. I recently joined the staff as the Tri-Cities Organizer after being a member of the Richmond Area Chapter since 2020.

I initially joined the chapter because of the dedication, diversity, and overall vision of the organization, which was different from anything I had experienced before.
I lived for most of my life in the Richmond area where I was born, and I received my BA and MSW degrees from VCU. I am now a Licensed Clinical Social Worker and have worked in community mental health as a counselor, a program director, a center director, and a founder of a non-profit that helps people with emergency transition housing. Like you, I volunteer a lot and I'm the go-to person for many people. If I can't help you, I know the person who can. I know this work is what I was put here on Earth to do.
As a chapter leader I was able to speak out about my struggle with the Virginia Employment Commission (VEC) and see the effect of that action right away. Many other issues affect my life and motivate me to do this work. Some of my friends and family members have been incarcerated for years because of the "war on drugs," which was really a war on people of color and our communities.
As a mental health professional, I know that a substance use disorder is an illness, and incarceration is not an appropriate treatment for mental illness, yet people who need treatment are being locked up even as I write this letter.
We have a long way to go in this country to change mass incarceration and the trauma it causes black and brown people. As a supporter of Virginia Organizing, you are helping to make that change happen. For example, just a few months ago, our chapters in the Shenandoah Valley stopped a proposed $40 million expansion of a regional jail in Augusta County!
Chapters across Virginia continue to work diligently to challenge the systems that keep people from having their basic rights honored and that keep them from having access to the resources they need to have a better quality of life.
Together we do more than any of us could do alone.
Virginia Organizing works statewide to ensure environmental justice and access to public transit, and we continue to fight fracked gas pipelines.
The Waynesboro and Newport News chapters are working for affordable, livable housing in their communities.
Many chapters have worked on education issues including the school-to-prison pipeline, funding for infrastructure, rights of parents of children with disabilities, mindfulness programs, and LGBTQIA protections. We organized with the Fund Our Schools Coalition in areas of Virginia like the New River Valley, Eastern Shore, and Southwest that few other statewide groups ever visit.
We had a major role in coalitions that won access to Medicaid and extended post-partum care for some immigrants.
We serve as fiscal sponsor for 48 groups, leveraging their amazing social justice and environmental work and saving them paperwork so they can focus on their mission.
Without your support, this work would not be possible. Thank you.
Peace and Blessings,
Erika Holliday
Tri-Cities Virginia Organizer