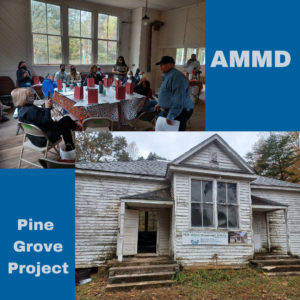 The AMMD Pine Grove Project is a historic preservation initiative with a mission to "protect, restore, and repurpose the historic Rosenwald Pine Grove Elementary School" located in rural Cumberland County, VA.
The initials "AMMD" refer to the Agee-Miller-Mayo Family Association, an African American family with generations of history connected to the school, which opened in 1917 through the combined efforts of Cumberland County's Black community and the influence and support of Booker T. Washington's Tuskegee Institute and philanthropist Julius Rosenwald. Pine Grove Elementary School eventually closed after over 40 years of educating local children, but former teachers and pupils continue to live in the area and return to visit for community events.
One of those community events took place on October 30, but the gathering was about much more than celebrating the past. It was also a time to focus on a major threat to the present-day community: the siting of a large landfill just up the road from the school. The work to shore up and renovate the school has now merged with the hard fight ahead to preserve and protect the land, water, and air for the people who live nearby and downstream in the James River watershed.
One astonishing fact is that the landfill is not even meant to serve the local community: it is intended to be a dump site for waste the State of Virginia plans to import from surrounding states.
Attendees to the event were a cross-section of the community drawn together by the imperative to "take care of each other," as one resident said before detailing a litany of alarming statistics about the likely impact of the landfill. Between the musical ice-breaker and the Pine Grove history Jeopardy game were presentations by professors from UVA Public Health, UVA Law Clinic, and UVA Preservation and Planning, among others. Students and professors presented on the Green Ridge Landfill Health Impact Assessment that is in progress.
"Our UVA and other community partners are much more than academics," says Muriel Branch, the director of the program. "They are passionate advocates for environmental justice and for protecting and preserving the history of the Pine Grove freedmen-built community."
Care for the land, water, air, and the life around us can begin with the ways we nurture the places we inhabit in the here and now. The Pine Grove community is in a position to fight the degradation of its rural land because of its deep roots in that place: the graves of formerly enslaved people are hidden somewhere in the woods out back, yet to be re-found. Their descendants are the core of the extended community that is coming together to bring this place back to life today.
It is a community that is truly fighting to honor its ancestors.