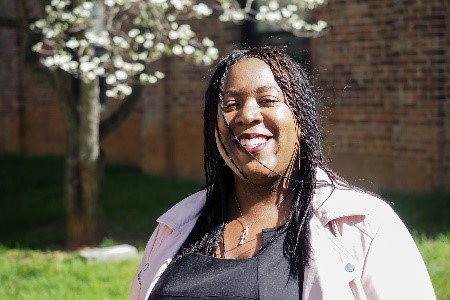 Brandy Faulkner wanted to get involved with Virginia Organizing years before there was a chapter in the New River Valley, so she joined immediately when an organizer moved to her area. "I was really excited to see a grassroots organization with so much history working in Montgomery County," she says. "We've had a lot of other organizations come and go, but I've always believed that if you're going to make headway on an issue the work has to be led by people in the community, and that's what Virginia Organizing makes possible."
Brandy is the Gloria D. Smith Professor of Africana Studies at Virginia Tech University. She was born in New York but moved to Southside Virginia when she was young, went to high school, college, and graduate school here, and now teaches here. She has lived in Blacksburg for 13 years.
The school-to-prison pipeline and environmental justice have been two of the issues she is most passionate about. Both issues are about young people and protecting the potential of the next generation. Brandy has participated in the chapter's school board visits, rallies, forums, and other actions, and also joined the statewide environmental justice planning committee and attended meetings with officials at the Department of Education in Richmond.
"Underrepresented children in schools are often seen as inferior students," she says. "They're treated as disciplinary problems, and they don't get the time, attention, and resources that other children receive. Eventually they're shuffled off to the criminal justice system. It makes me so sad that these children, who are just as capable as anyone, are not able to develop their potential. We need to get to the bottom of what's happening and figure out how to fix it."
Environmental justice is an equally urgent issue, and Brandy has been one of Virginia Organizing's most active leaders in working for it. "My dad was a textile worker," she explains, "and he developed health problems related to the toxins he was exposed to. We don't always connect the pieces of the puzzle, but disregard for workers' health and safety, pipelines, climate change, they're all part of the same problem. Every one of us is affected, but some people more than others. I want to make sure we are sustainable and just and moving towards a healthy planet."
Thank you Brandy for all the work you do for the New River Valley Chapter and Virginia's future!