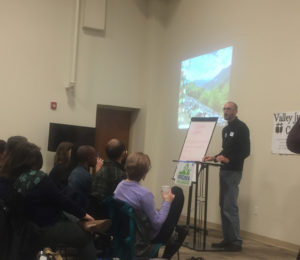 The Harrisonburg Chapter of Virginia Organizing partnered with Better Together/Mejores Juntos and Southerners on New Ground (SONG) in the development of a survey in order to investigate the relationship between the Harrisonburg community and local law enforcement. Ten people from Virginia Organizing then carried out the survey collection. The surveys were distributed during late 2017 and early 2018 throughout neighborhoods in the seven different geographic policing areas of the city. Surveys were conducted in English, Spanish, and Arabic.
They produced this report in order to share their findings with the community.
To read the report, please see this link.
On Saturday, December 1, the chapter held a forum where Virginia Organizing and the Valley Justice Coalition presented the report to the community and offered an opportunity to discuss the future of police – community relations in Harrisonburg. For more information, please see the NBC29 article here.