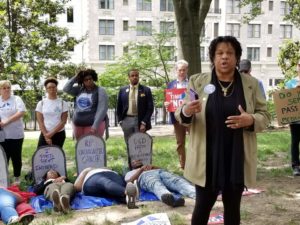 (Image: Eunice Haigler, Virginia Organizing leader from Fredericksburg at a May 22 Medicaid Expansion rally in Richmond.)
The General Assembly is on the verge of passing Medicaid expansion. The only thing holding it up is the Senate Finance Committee. They keep stalling by holding meetings, not voting, and then planning another meeting a week later!
Our friends in the Healthcare for All Virginians (HAV) coalition will be holding a rally in Richmond on Tuesday, May 29 when the Senate Finance Committee meets again. Free transportation is available from all over Virginia. If you'd like to join them, please contact us for a ride at 434-984-4655 ext. 227.
For more details, see this Facebook event page or read the HAV coalition's email below.
From the HAV Coalition:
We'll first gather at the Senate Finance Committee's meeting room (Committee Room B, Pocahontas Building). We want to pack the room with supporters of Medicaid expansion, and need to be there early to make sure our presence is felt. Plan to arrive between 10:30 AM and 11:00 AM. The Senate Finance meeting will begin at 12:00 PM.
Following the adjournment of the Senate Finance Committee, we'll head out of the Main Street door of the Pocahontas Building to greet Senators as they enter the Capitol through the Bank street entrance.
We'll then head to the Senate gallery to watch the floor vote. The Senate convenes at 3:00 p.m. on May 29!