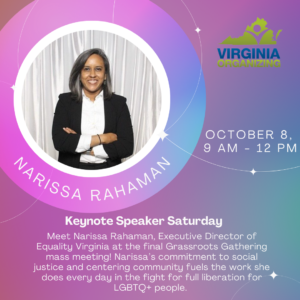 Meet Narissa Rahaman, Executive Director of Equality Virginia at the final Grassroots Gathering mass meeting this Saturday, October 8 from 9 a.m. – 12 p.m.
Narissa's commitment to social justice and centering community fuels the work she does every day in the fight for full liberation for LGBTQ+ people.
Register here. If you're already registered for the Grassroots Gathering you should receive an email with a Zoom link later this week.