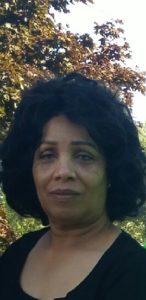 Originally from Ohio, LaVerne Jackson moved to Virginia because of her husband's military assignment here. She raised her children and worked as a nurse in pediatric health care, retiring after serving for many years as the Clinical Director of the Riverside Pediatric Clinic. She got involved with Virginia Organizing a few years ago and was very happy to join again, now that the group has an organizer helping to get a new chapter started.
LaVerne has always been politically active out of concern over injustice, but her primary reason for joining us was the crisis of children's health care she saw in her clinic. They treated over 10,000 children who were under-insured or uninsured, and then the federal government cut their funding. She worked for the Affordable Care Act and the expansion of CHIP and Medicaid for many years.
"Health care is still a problem because many doctors don't take the affordable insurance, and I don't like the work requirements for Medicaid," she says. "The income limits are too low. If you work, you get disqualified. Newport News is an expensive place to live anyway because of transportation costs, and the rents are ridiculous!"
The emerging chapter in Newport News has decided to work on transportation for their first campaign.
"The bus system in Newport News doesn't run after 9 p.m., so if you work nights you're stuck. They run very infrequently, too. I had an employee who had to take three buses to get to work and then walk six blocks to get to the clinic from the bus stop," LaVerne explained. "We are asking for the transit service to run 24 hours/day and also make their service more frequent."
LaVerne enjoys Virginia Organizing because of "the other people in the chapter who have similar interests and are working on other projects." Chapter members recently visited their state delegate in Newport News before the General Assembly session started. Members thanked him for his work on predatory lending, asked him to change his mind on Medicaid work requirements, and discussed the school-to-prison pipeline. The new chapter is certainly off to a great start with experienced leaders like LaVerne guiding it. Thank you for your work, LaVerne!