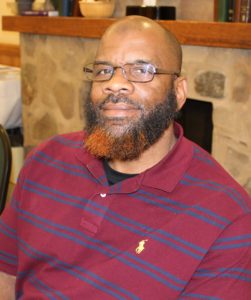 July 2018
Dear Friend,
My name is Tony Jones.  I'm 45 years of age. I grew up in a middle-class neighborhood as the middle child of three. I graduated from Woodrow Wilson High School in Portsmouth, Virginia, and I attended Ashworth College, Mountain Empire Community College, and Tidewater Tech.
I was incarcerated at an early age and spent almost 20 years in prison.
The 90s and 2000s in prison weren't easy.  I received two life sentences without the possibility of parole.  The sentence was harsh and excessive for a nonviolent offense.  On September 29, 2016 President Obama granted me clemency.  I remember saying to myself, "If I ever get a chance to make it out of here I will make a difference in the community."  Virginia Organizing was that light I was looking for.
I became a Virginia Organizing staff organizer in April of this year, and I'm writing to ask that you please make a donation to support Virginia Organizing's work.  I have seen how this organization can help people.
I first became involved with Virginia Organizing in January of 2017. I was invited by a relative and she persuaded me to come to a chapter meeting.  I went not knowing what to expect.  At my first meeting I heard the phrase "school-to-prison pipeline."  That caught my attention.  I asked what it meant and the chapter leaders and Portsmouth organizer explained it to me.  I was blown away hearing this. While I was listening I immediately thought about myself growing up in the Portsmouth public schools.
This first meeting influenced me to come again.  After that I became a regular member and started engaging in the local campaigns.  I spoke at school board meetings about the high rate of suspensions in Portsmouth public schools. Suspensions lead to the school-to-prison pipeline.  The schools had turned the classrooms into courtrooms.
I organized a cookout for the City of Portsmouth, facilitated by Virginia Organizing and HYPE (Helping Young People Everywhere, a mentoring group I started to help youth understand the consequences of their actions).  It was a success.  The sheriff, police chief, mayor and other public officials came out in support, along with about 200 community members.
I learned through the chapter meetings, workshops, and the Grassroots Gathering how the city of Portsmouth can be changed to meet the needs of the people.  And that chapters all over the state are working on affordable housing, health care for everyone, climate change, immigration reform, as well as the school-to-prison pipeline.
Virginia Organizing has empowered me and gives me an opportunity to empower other people.
Thank you,
Tony Jones
Suffolk Apprentice Organizer
P.S.
I hope you will make a donation now, and I thank you for supporting Virginia Organizing!
We are celebrating an important victory with Medicaid expansion, after eight years of hard work.  Your donations helped to make it possible!
If you're interested in making a huge impact that costs you nothing now, join our generous supporters who have included Virginia Organizing in their wills. You can make your will (for free) today at FreeWill.com/VirginiaOrganizing.