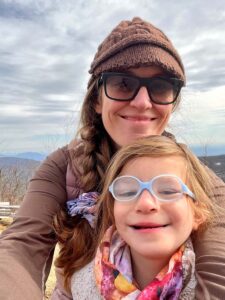 Shortly after Lily Koym was born in 2015 she was diagnosed with a rare, life-threatening congenital heart defect. After months of treatment, her doctors at the University of Virginia Medical Center said they wouldn't recommend additional treatment. They sent her home and advised her parents to prepare for the worst. But her parents, Jen and Todd Koym, would not give up, and they sought second and third opinions until they found a surgeon at Boston Children's Hospital who saved Lily's life.
Any family that has faced an adverse medical diagnosis that requires long-distance travel for treatment may understand the additional layers of stress and complexity the Koyms faced as they sought help for Lily: stresses like the expense of travel, lodging, and disruption to employment, as well as the isolation.
"In many ways, it was like COVID started in 2015 for us," Jen says. "We often had to isolate to prevent her from getting sick so she'd be ready for any necessary surgery."
The Koyms found their saving grace in Boston through an organization called Hospitality Homes. On two-days' notice the organization placed them with a host home where they could stay indefinitely while Lily was being treated at the hospital, and the host family helped with cooking, navigating public transportation, and orienting them to the neighborhood. The Koyms' positive experience with Hospitality Homes gave them the idea of replicating the model in Charlottesville, Virginia, where they live.
"We learned that families were coming to UVA and sleeping in their cars because there were no organizations offering what we experienced in Boston," Jen says. "That is why we decided to start our own." That is how LilyPads Housing came to be in 2017, under the fiscal sponsorship of Virginia Organizing's Joint Plan of Work program.
The first host family opened their home in 2019, and before the COVID-19 pandemic hit they had grown to 15-20 households hosting patient families at any given time. Referrals came through social workers at UVA. All of that came to a halt during the pandemic due to restrictions on visitors at the hospital, so fewer families were traveling. While most restrictions remain in place, LilyPads was able to open 6 standalone guest houses in December 2021 – a slight departure from the host family model, but still a critical resource for patients' families.
Jen gets her energy for this work from the supportive interactions she has with families who are going through the same ordeal she experienced with Lily.
"Families are often really thankful to be able to talk with someone who has also gone through a really challenging medical diagnosis for their child – the isolation, navigating difficult medical decisions, living away from home, etc. Many of the families we have helped have now become good friends," Jen says.
Right now their biggest need is for additional host homes, especially units that can be used for longer-term stays such as AirBNBs or detached apartments. It has proven too difficult to place long-term guests in shared spaces, so the detached units are the most sustainable and stable approach. Improving food access through gift cards to DoorDash or GrubHub is also a tremendous help for families who depend on the downsized options available at the hospital. To learn more about their story, their host families, and their needs, visit the LilyPads Housing website here!