ACA Supporters Hold Town Hall to Celebrate ACA's Accomplishments and Urge Lawmakers to Make Long Term Investment in Health Care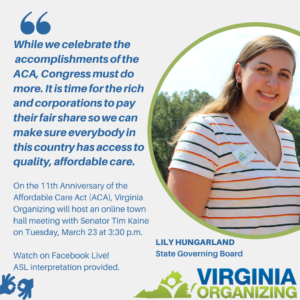 What: Town hall with Sen. Tim Kaine and Virginia Organizing leaders from around Virginia
When: Tuesday, March 23, 3:30 p.m.
Where: Zoom Meeting
Charlottesville, Va. — On the 11th Anniversary of the Affordable Care Act (ACA), Virginia Organizing will host an online town hall meeting with Senator Tim Kaine on Tuesday, March 23 at 3:30 p.m. to celebrate the law's significant achievements and new improvements to access and affordability passed in the recent relief package, the American Rescue Plan (ARP).
Senator Kaine voted to pass the ARP earlier this month, which included provisions that increase health care affordability and provide a range of critical relief measures to families and businesses.
As COVID continues to impact millions, leaders from Virginia Organizing's chapters around the Commonwealth will tell their stories of how the ACA and Medicaid have proven to be critical resources for everyone who needs affordable, reliable coverage to take care of themselves and their families.
Speakers will also call on lawmakers to make permanent investments in health care improvements.
"The threat of bankruptcy due to a medical emergency or the cost of prescription drugs is a shameful reality for countless Virginians," said Lily Hungarland, a Lynchburg resident and secretary of Virginia Organizing's State Governing Board. "Through the Affordable Care Act, I was able to stay on my parents' health insurance after college. Millions of people like me have gained access to affordable health care thanks to the ACA. While we can celebrate its accomplishments, Congress must do more. It is time for the rich and corporations to pay their fair share so we can make sure everybody in this country has access to quality, affordable care."
To interview a spokesperson about this event, contact Rosemary Gould at 434-962-7261 or rosemary@virginia-organizing.org.