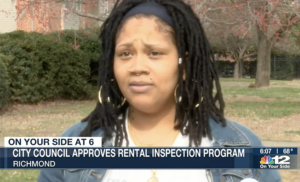 Richmond City Council has agreed to create a rental inspection program after the Richmond Chapter spent months lifting the voices of Forestbrooke Apartment tenants who live in dangerous conditions.
Leaders Natesha Ferrer and Dawn McCormick spoke to Henry Graff of WWBT about the conditions they face and this decision in February.
"Just because we don't have the income level… as other people. It doesn't mean we're not people… I matter. My children matter and I just can't let this slide," Natesha said.
The chapter will continue to push for Amurcon Realty, the owner of Forestbrooke, to fulfill all of their requirements, such as fixing broken appliances and doors, removing mold, etc.