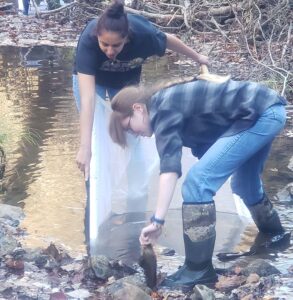 Nigerian afrobeat legend Fela Kuti had a hit song about water, entitled Water No Get Enemy. If it was easier to sing along to it might be an anthem for today's water protectors here in the US, groups like The Clinch Coalition (TCC) right here in Southwest Virginia. The crux of the lyrics is that we all depend on water to live and thrive. But what do we do when the very thing we depend on is a threat to healthy communities.
The people who work with The Clinch Coalition, like Sharon Fisher, know this as much as anyone who lives in the sacrifice zone that is Appalachian coal country. Sharon comes from five generations of coal miners and her father was a member of the United Mine Workers of America. "He instilled in me to stand up for what you believe in and not to be intimidated by those in power," she says. Her own experiences of the outdoors, and the legacy she received from her father, led her to seek out environmental justice work after retiring. That is when she found TCC. The Clinch Coalition name refers to the Clinch Ranger District of the Jefferson National Forest, which is a tributary to the biodiverse Clinch River.  TCC's mission is to protect and preserve the forest, watersheds and wildlife in their region. TCC organized in 1998 to resist and mitigate the effects of logging, which had contributed to flooding and causing the death of an elderly man. More recently, they have been calling attention to damage caused to stream beds by irresponsible use of ATV trails that were formed to bring economic development to surrounding former coal towns.
And like her father, Sharon has found her colleagues at TCC are not intimidated by those in power. TCC has learned over the years that environmental advocacy can be threatening to people who have an interest in allowing environmental destruction to remain unchecked. TCC members have had their homes threatened, dealt with online bullying, and faced lawsuits. In spite of the threats, they continue to document environmental damage and have created a River Watch group to monitor water quality and challenge regulatory agencies for protection of their wetlands, streams, and rivers.
Sadly, Sharon doesn't envision a future when they can rest. Even with environmental issues directly affecting them, "most people just want to live their lives," she says. "It is hard to sustain action against those in power." It is the dedication of the small group of volunteers and staff at TCC that gives Sharon energy and hope, the ones who persist even when things get exhausting, even in the face of threats.
"We need elected officials who understand how the devastating effects of over a century of extractive industries have impacted the people and the land," Sharon says. "I am encouraged with the recent coalescing of local environmental organizations to work together to reach out, educate, and engage community members."
It is small, local environmental justice organizations like The Clinch Coalition, operating deep inside our sacrifice zones, who are the most easily overlooked but who are the most critical to the fight. These are the ones who are on the front lines, and they deserve all of our support, regardless of where we are, because what impacts them first will impact us all.