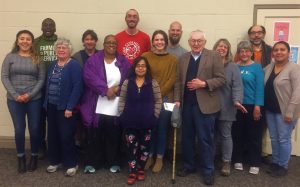 The Harrisonburg/Rockingham County Chapter has worked on many issues over the years.
We completed an anti-criminalization campaign in 2019. This campaign included a review of the Harrisonburg police department's Standard Operating Procedures. We met with two police chiefs to discuss the review and recommendations.
We also conducted a Police/Community Relations Survey that got information from all seven of our policing districts and gave that feedback to our local police.
Due to our Diversity in Hiring Campaign, Harrisonburg city government agreed to change their hiring practices so that Harrisonburg's city staff would better reflect the diversity in our community. 
Currently we are continuing our efforts to build power in the Harrisonburg/Rockingham County community by engaging with community members to determine the scope of our next issue campaign. 
The Harrisonburg/Rockingham County Chapter meets every fourth Wednesday of the month at the Lucy Simms Center.
Visit our Facebook page for the most up-to-date information!
To get involved in the Harrisonburg/Rockingham County Chapter, please click here to contact local organizer Karen Valdez.