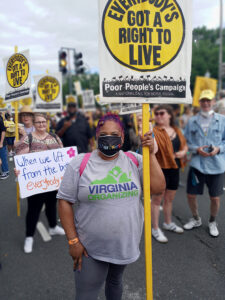 LaChere Griffin-Denton is a lifelong resident of Hampton. She got involved in Virginia Organizing because, "I wanted to be more active in government. I saw the way my local community was being treated, and I really didn't like what I was seeing."
Cher joined the Hampton/Newport News Chapter about five years ago when they were working for better public transit in Hampton Roads. The chapter won their campaign when HRT expanded services and bought new electric buses, but Cher feels the situation needs to be monitored. People still don't have public transportation to jobs that are outside of downtown.
This year the chapter is demanding that both cities provide shelter for the unhoused. Cher wants to hold local leaders accountable. "I think they've lost focus on what really matters. They just want to study it and never act on it, and they're not thinking about how to solve the problem."
Cher has written many letters and op-eds to local papers, attends legislative meetings and rallies, and speaks at city council meetings regularly. Last weekend, she also attended the Poor People's Campaign march in Washington. She appreciated the way many of the speakers were directly-affected people. "When you hear a person's story, it's hard to dismiss. The stories make the movement."
Thank you for your dedication to change in your community, Cher!