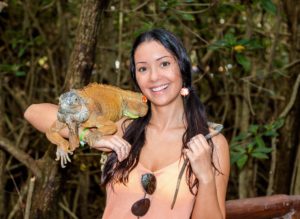 Rebecca moved to Harrisonburg in 2010 after living much of her life in Colorado. Due to progressing symptoms of then undiagnosed Ehlers Danlos Syndrome, she had to endure nine surgeries over the next four years. She was mostly homebound during those years, unable to work or meet people in her new community.
Then in 2014 she attended her first Virginia Organizing chapter meeting because she was outraged at the way the leasing company that managed her apartment treated her and other tenants in the Harrisonburg area. "I had a friend whose home flooded with raw sewage when the neighbors had a burst pipe, and the landlord refused to clean their home. My landlord leased my home out from under me 6 months prior to my renewal date despite the lease saying they would give 3 months' notice."
Although the chapter didn't take up that issue, Rebecca really liked this method of organizing. "Looking at social systems and how they work is really interesting to me," she says. Her background in Economic Sociology meant that she understood the value of working for deep, structural change.
Her gifts also made her a leader in the chapter. Rebecca enjoys planning events, and she doesn't shrink from work that some of us find uncomfortable like fundraising. For the last four years, Rebecca has been on the Grassroots Gathering Planning Committee and she has run the silent auction at the Gathering. She specializes in selling ads for the program book, and as a result her chapter always meets its fundraising goals.
Rebecca served as the planning committee chair for her chapter's International Dinner fundraiser last spring. The event cost the chapter nothing since every single item they needed for the dinner was an in-kind donation! She advises, "Find out which issue people care about and speak to them about what their donation will mean and has meant to organize change around that issue. People can give different things. If they say no to a monetary donation, ask for food for your next event, or an item like a gift card for the silent auction, or ask them to attend a meeting, or all three! And importantly, follow up with a thank you note, so they know they are remembered and their kind donation mattered. And if they don't want to help, that's good information, too. You know who not to ask next time!"
Rebecca has recently moved to Northern Virginia, but she promises to stay connected with us and attend GG2019. Why does she love Virginia Organizing? "As a person who became increasingly disabled, I lost a lot, including my ability to be gainfully employed, and that was an incredibly painful blow to my sense of self. But, through this life experience, I learned that living by your principals and values is what really matters the most. You can accomplish profound things by being clear who you are and having a clear goal. Virginia Organizing was a place where I could contribute. We are never opportunistic in the way we organize. The local community informs our campaigns and not the other way around. We are so clear on who we are, what we do, and how we build power."
"Virginia Organizing was part of my journey to personal and communal power. Who you are being when you organize is what matters most, and that's why I trust Virginia Organizing and why I love us so much."
Thank you, Rebecca, for contributing so much to Virginia Organizing.