This is an excerpt from Building Power, Changing Lives: The Story of Virginia Organizing, available for order by clicking here. The article was first published in the Fall 2015 edition of Social Policy. 
"Do you know where you are?"
The man looked me up and down, shaking his head. I lived a few blocks away and could name every intersection between his house and mine. I had studied the map online for hours. I wasn't lost. But in a very real sense, I didn't know where I was. How could I? I had moved to this new city a few weeks earlier and was just beginning to move beyond the areas you might find in brochures. I didn't know much, but I was determined to learn.
"This is a rough neighborhood," he said. "You can't walk these streets by yourself – it's just too dangerous. You need to leave before something bad happens."
I dug in.
"I'm not going anywhere," I told him. "The problems you're talking about, that's exactly why I'm here. I'm trying to learn more about the community – what people care about and want to see change."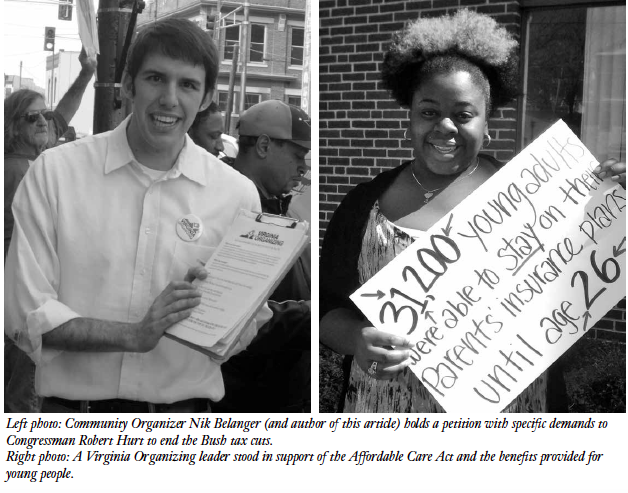 A blank stare. I took a deep breath and asked the question I'd tossed at almost every person I'd met since moving here.
"What do you want to see change in Danville?"
His eyes widened.
"No one's ever asked me that before."
It has been five years since that conversation in early 2010. Since then, I've had hundreds of similar conversations. And
here's one thing about which I am certain: the Danville Chapter of Virginia Organizing knows what it means to build power for change. Over the years, we have reached more than 20,000 of Danville's 43,000 residents through door-to-door canvasses, phone banks, and tabling. We have knocked on every door in nearly every low-income neighborhood, many of them multiple times. In July 2014, the Danville Chapter successfully campaigned for the introduction and passage of a Ban the Box resolution to remove criminal history questions from the City of Danville's job applications, overcoming opposition from city staff and reluctance from a few city councilors. We have made thousands of phone calls, trained hundreds and hundreds of community members to take action, and helped people develop their skills as leaders.
And it all grew out of that one question.
While that question – what do you want to see change? – feels second-nature to me now, I realize how foreign it may be
for many young organizers today. As the organizer for the Danville Chapter of Virginia Organizing, I am part of a new generation of organizers who joined staffs around the country after the 2008 presidential election. As a former community organizer, the Democratic nominee not only brought the profession to the attention of the general public, but also applied many of its techniques to the campaign itself, and thousands of campaign workers and volunteers learned the power of face-to-face organizing. Along with community organizing's newfound visibility and popularity, however, came a pressure to
avoid the grassroots work required to build democratic community organizations. In the years after Barack Obama's first presidential campaign, both intentionally and uncontrollably, the practice of organizing changed in significant ways.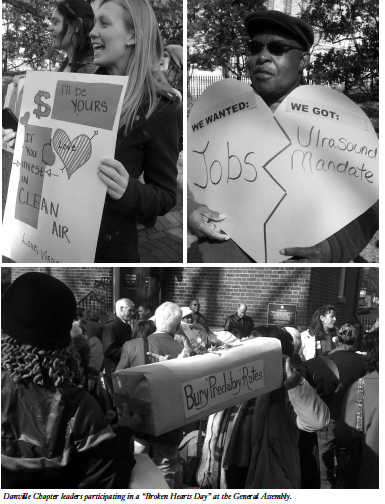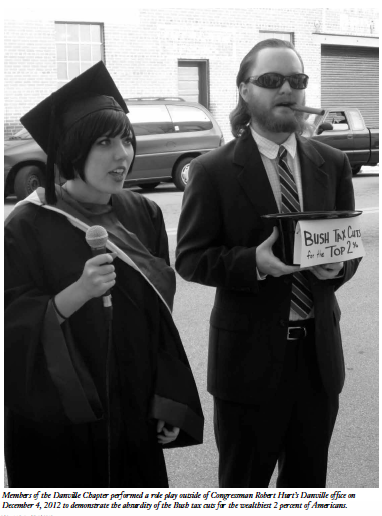 To understand the success of the Danville Chapter of Virginia Organizing today requires an appreciation of its brief history – organized by a young community organizer in the Obama era of mobilization organizing – and the commitment to authentic grassroots organizing that made it possible. What we did in Danville wasn't anything new, but it is increasingly rare in the post-2008 world.