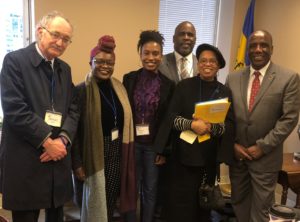 Leaders from the South Hampton Roads Chapter visited their legislators in the General Assembly in January.
Every chapter will make these visits to advocate for our four top priorities:
Medicaid Expansion must be passed this year so that the 240,000 people in the coverage gap, and everyone else who qualifies for Medicaid, gains access to health care.
Virginia should provide driver's licenses to all resident adults, regardless of their immigration status. Driver's licenses should also not be taken from people because they cannot pay their court fines. It's in everyone's interest to allow immigrants and returning citizens to work, care for their families, and be trained to drive in their communities.
The Virginia Alternative Energy and Coastal Protection Act would bring our state into the coalition of states that are fighting climate change in several cooperative ways. It would be good for our economy and our health and safety.
Several bipartisan bills that would help in our work to stop the school-to-prison pipeline have been submitted. SB170/HB296 would protect younger children in elementary school from suspensions and expulsions. SB476 would give school principals more discretion about referring students to law enforcement.