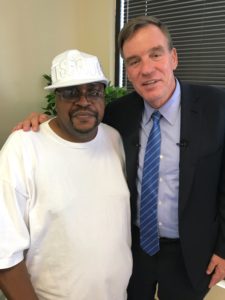 Norfolk, Va. – Senator Mark Warner hosted a meeting with Virginia Organizing leader Terry White today as part of a larger gathering of health care advocates and providers in Norfolk at the Ocean View Medical and Dental Center.
"It was a very productive and good discussion with the senator and a lot of other groups," White said. "The senator understands that without the ACA some of us, like myself, wouldn't be here."
The meeting was held to discuss ways to protect the Affordable Care Act, stop surprise billing, and address the high cost of prescription medications.
Terry White lives in Chesapeake and has been a leader in the Norfolk Chapter of Virginia Organizing for several years. He became disabled as a result of a workplace injury and later developed cancer, but he had no health insurance and suffered extreme financial and physical hardship as a result.
He joined Virginia Organizing in order to fight for Medicaid expansion for himself and others, and in January he was finally able to sign up for the program.
For more information about Virginia Organizing or to interview Terry White, contact Rosemary Gould at rosemary@virginia-organizing.org or 434-962-7261.