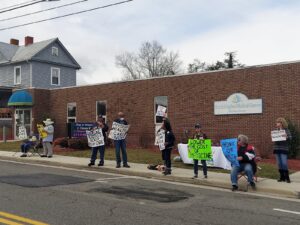 The Wythe County Chapter became an official chapter of Virginia Organizing in May 2022. 
While an emerging chapter we wrote letters and made phone calls to our state legislators, urging them to adopt an appropriate state budget.  We held a Health Care for All Rally as well as a Mental Health Awareness Rally.  As a new chapter, leaders have attended meetings with Senator Mark Warner thanking him for the passage of The Inflation Reduction Act and urging him to help put a stop to the Mountain Valley Pipeline. 
We partnered with St. John's Episcopal Church to present Wytheville's first Juneteenth Celebration, with about 100 participants attending including vendors, local talent, and speakers. The chapter has maintained in person meetings with steady attendance. Leaders have tabled at numerous community events and have met with Wythe County Public School administrators, several school board members, as well as Mental Health professionals, Housing professionals and directly affected citizens of Wythe County, to help research and properly choose the best campaign for our chapter and community. 
We have chosen our first campaign (housing), but are in the process of choosing what component of housing we will target.  We also sponsored a 2022 Candidate Forum highlighting Wytheville Town Council Candidates and Virginia 9th District Congressional Candidates. 
This year will be the first year the Wythe County Chapter will host Wytheville's Annual Dr. Martin Luther King Jr. Celebration.  The Chapter is in the process of planning a "Walk in My Shoes"  Homeless Awareness Rally and Community Listening Session.
To get involved in the Wythe County Chapter, contact local organizer Glenda Crockett-Eans at glcrockett-eans@virginia-organizing.org.