From Susan Perry in Charlottesville:
Of course billionaires should pay their fair share of taxes. That's a no-brainer right? It is very unpatriotic for billionaire companies that have benefited from the opportunities of our country to not take part in taxes that the everyday citizen is penalized for not paying.
Today I participated in the Charlottesville Chapter's demonstration calling for the ultra-rich and corporations to pay their fair share. If you agree the ultra-rich should contribute to our country, take action today with us!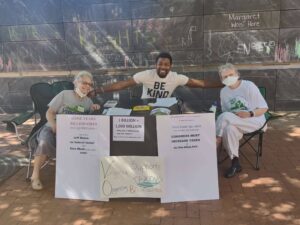 This week Congress is working on the reconciliation bill that we need them to pass this summer. Taxing billionaires is crucial for the funding we need to make health care more affordable by extending premium tax credits for the Affordable Care Act.
It's also important to tax billionaires to keep them from destroying democracy. Billionaires have been bankrolling attacks on voting rights and influencing elections. They donate millions to politicians who promise to spend taxpayer dollars on what they profit from.
They have too much influence, and the rest of us don't have enough.
Please contact our senators and representatives and tell them to tax billionaires today. The number for the Congressional switchboard is 202-224-3121, or you can find your member of Congress and their contact information at this link.