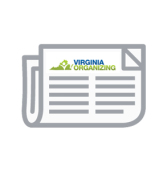 What: Listening session on child care needs When: Monday, May 8 at 1 p.m. Where: Grissom Library, Grissom Meeting Room, 366 Deshazor Dr, Newport News, VA 23608 Newport N ...
Read More »
From Susan Perry in Charlottesville: Of course billionaires should pay their fair share of taxes. That's a no-brainer right? It is very unpatriotic for billionaire companies that ...
Read More »
Members of our chapters write letters to the editor for their local newspapers every month. It's one of the many ways we raise our voices about the change we want to see in our co ...
Read More »